Dinner Plain, Your day trip.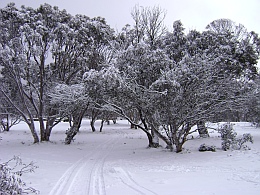 Dinner Plain is situated approximately 35 minutes by car from Omeo, on the way to Mt Hotham.


The traditional owners of the region are the Gunai-Kurnai people.Aboriginal people lived and traveled through the Victorian High Country for thousands of years.As a matter of fact the name Omeo means mountains or hills in the old aboriginal language.


So what about the name itself you may ask? Well, as a matter of fact it derived from the times when coaches were running between Omeo and Bright and they would stop there for midday dinner.


The village started being constructed in 1986, it was previously a freehold graziers land owned by a private party from Omeo.Today it boasts over 300 chalets, apartments, supermarket, pubs, restaurants and even a spa.


The chalets have a very unique style inspired by the old cattlemen's huts.It's the only alpine village on a freehold land above the snowline.


In winter as well as summer it's a hub of activity.Some of the summer activities include fishing, cycling, mountain bike riding, rock climbing, hiking.


The local pub is open 364 days a year, serving fantastic food all year round.
In winter whatever it is be it skiing, dog sledding, tobogganing or just warming up in front of a cosy open fireplace, it's a fantastic place to experience the winter wonderland. There are some absolutely amazing cross country tracks, including one that goes for about 10 km from D P all the way to Mt Hotham, with some amazing bush flora and fauna and breathtaking views.

Another unique way to spend a day is to explore some of the numerous historic cattlemen huts, Parks Victoria can provide You with more detailed information.


It's a perfect day trip from our Alpine Valley Retreat, so do check out Dinner Plain I promise You, it wont disappoint You.


From From Dinner Plain back to Alpine-Valley-Retreat.com